Roz Schrodt, Artistic Director of Moment in Time Dance Company, of Ashland, Oregon. She has performed and been active in dance since she was 7 years old. She founded The Moving Center Dance Theatre in Taos, New Mexico, 1973-1976. She has worked with Beverly Pollack, has studied extensively with David Hochoy, Kitty Daniels, and Bill Evans. Roz has choreographed more then 100 dances.

She has won awards for her choreography, and received two National Endowments for the Arts grants for her dance productions. Roz has a Bachelors Degree in Humanities from Southern Oregon University. Roz completed the Bill Evans Certification Program in 2007. This 4 year program includes the study of Labon Movement Analysis and The Bartenieff Fundamentals. She has consistently taught Modern Dance Technique classes for the last 40 years. She has taught workshops in New Mexico, California, Oregon, Washington, Republic of Mexico and in Bali, Indonesia. Roz has mentored many dancers that have gone on to have successful careers in dance. She loves the art of dance and conveys this love to all of her students. Roz has been guest artist with Liquid Fire Mantra, as a choreographer and performer for their Oregon Shakespeare Festival Green Show. She has been guest artist for Pioneer Dance Co.
Roz continues to make new dances for Moment in TimeDance Co. A recent concert brought in Flamenco dancer Elena Villa and Musician Grant Ruiz. This was a collaboration on music and a fusion of modern dance with Flamenco dance.
In 2016, Roz produced "Sounds of the Tree of Life." This dance concert joined with the sound healing music of Consuelo Luz of Santa Fe. The six dancers will all experienced the power of sounds of the Seven Chakras that they portrayed in this healing dance. It was performed in April 8, 9, & 10th, 2016 to full audience for all 3 shows. Her newest works have been performed in Dance Dialogs and in the Bill Evan Teacher Reunion.

Winter Classes are ongoing now and may still be joined
Intermediate and Advanced classes will meet on Mondays 5:30 to 7 pm
Thursdays 12:30 to 2 pm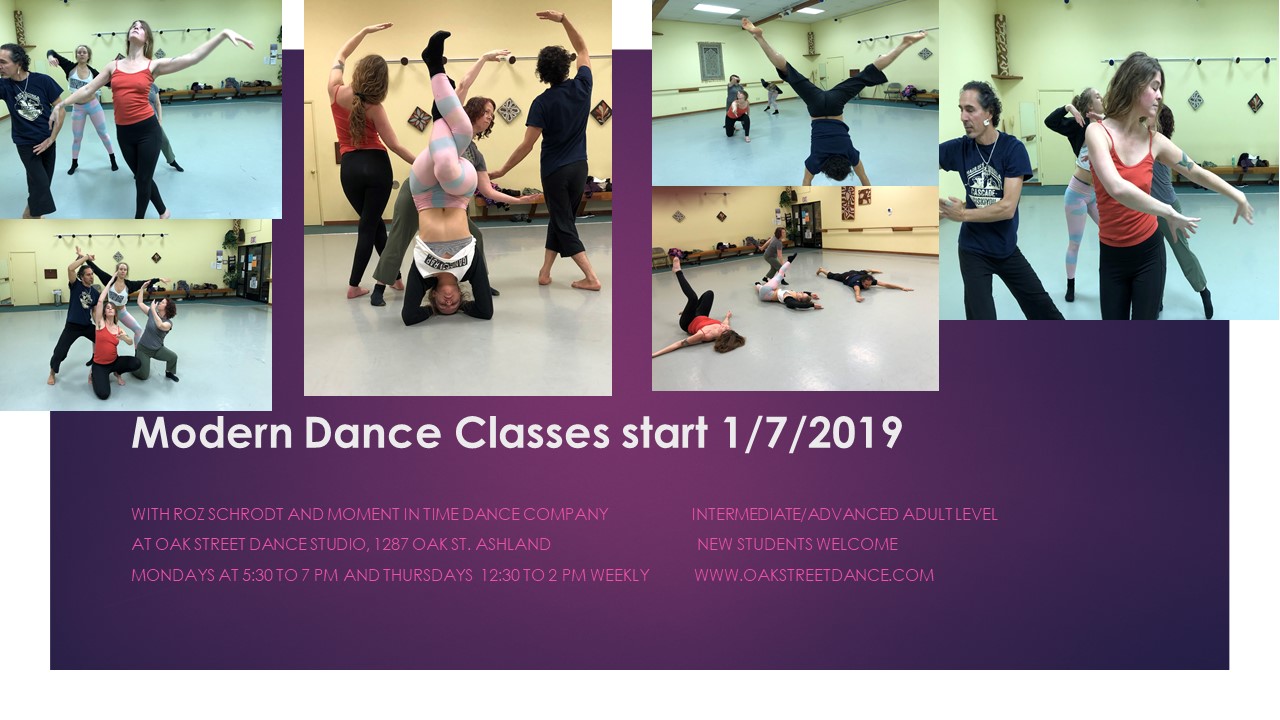 Modern Dance Technique
Roz directs her class to help develop strong, supple bodies needed to master Modern Dance.
"I look at each student as an individual, learning in their own way. I present the material in many different ways to reach each student where they are at in this point in their dance training. Roz is greatly influenced by my study of the human body kinetic wisdom.. "
The Advanced/Intermediate class is specifically for the experienced students that are interested in going into performing and/or are already performers. These classes are Scheduled for Monday and Thursday 6 to 7:30 pm. It is the company class for Moment in Time Dance Co. It will continue through the year as MIT has some shows coming up. Please Email for further information, rozinthismoment@msn.com Reconvening on January 7.
Dancers Toning and Conditioning Class, " Private lessons and training"
From time to time we are asked to give the benefits of good dance training to people who just want to be in better shape. This course is being offered for all ages regardless of experience to become friends with their own body again. The work out has been developed through many years of study and development. It includes many forms of optimum conditioning exercises and an deep stretches. Give yourself that special time for your health and well being. Learn how to work within your needs. Please email her for further information, rozinthismoment@msn.com

Dance for Fun: An int./adv. Modern Dance class with
Liz Finnegan
Liz Finnegan
has a BFA in modern dance as well as training in Ballet and Jazz. Her class is designed for the seasoned dancer, with a performance background, who may want a weekly class to keep up on technique, stay in shape, learn new choreography, and meet other dancers. Class is Wed. 6 to 7:30 pm

For more information please call
Liz at (541)488-3443.
Classical Ballet with Sylvia Bolton
Classes are an intermediate/advanced level requiring at least 4 years of training in ballet technique. There is not a specific pointe class, but most of the dancers do change into pointe shoes for the center, depending on the length of the class. The class tuition rate is $15 per class. There is not a specific "drop in" rate, nor a reduction in class price if you are paying by the month. Monthly tuition is paid within the first week of the month. Barre only rate is $7.50 per class. Dancers need to wear appropriate attire for a ballet class, including ballet or pointe shoes. Multi Age group. Beginning February 18th.
For more information you may write Sylvia at noootka@gmail.com


Classical Ballet
With Sarah Lozoff





"Sarah's ballet class focuses on classical technique, with emphasis on alignment, weight transferring, and musicality. She specializes in breaking things down to basics, so even advanced dancers can better assess habits and tendencies.
Her students can enjoy exploring the how and why of what we do in ballet, and how that translates to bigger steps and broader dance forms." She is available for private lessons.

"Sarah Lozoff (SDC) is a movement director, intimacy choreographer, and ballet instructor based in Ashland, Oregon.
As a second generation dancer, Sarah trained at Miami Conservatory (now Thomas Armour Youth Ballet), under Thomas Armour, Robert Pike, Ruth Wiesen, and Nancy Raffa. At the nationally renowned New World School of the Arts, she studied with Judith Newman, Gerri Houlihan, Peter London and many others. Professionally, Sarah performed soloist and principal roles with Ballet Rosario Suarez, directed by Cuban prima ballerina, Rosario "Charin" Suarez.
Over two decades, she has taught for companies, conservatory programs, public schools, and outreach programs. In the last several years, she's choreographed and provided movement direction for theatre productions at Oregon Shakespeare Festival, the Guthrie Theater, and Mixed Blood Theatre.
Sarah is currently a movement director and intimacy choreographer for the Oregon Shakespeare Festival; a guest teaching artist for professional dance and theater companies across the U.S., and teaches weekly ballet and conditioning classes in Ashland, Oregon."